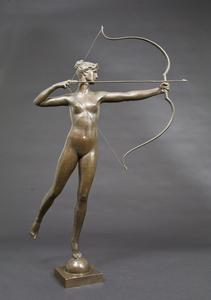 Augustus Saint-Gaudens
DIANA, 1895
Bronze
39 1/4 x 26 1/4 x 17 inches
Signed: AUGUSTUS SAINT-GAUDENS (proper left side of half sphere self base)
Marked: Copyright • by • A • Saint • Gaudens • M•D•C•C•GXCV (rear of self base)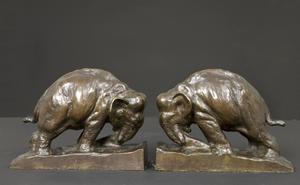 Mahonri Young
ELEPHANT BOOKENDS, c. 1925
Bronze
5 3/8 x 7 1/8 x 3 inches (each)
Signed: YOUNG (top of self base, each)
Marked: 40-4 (scratched into rear of self base, each) Gorham Founders / Q469 (rear of self base, each). #43 (side of self base, each)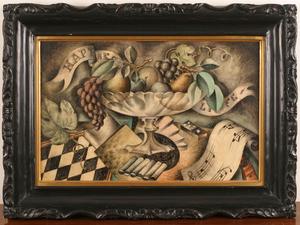 Konrad Cramer
FRUIT BOWL, c. 1922
Crayon and watercolor on board
11 1/2 x 17 inches
Provenance:
Artist until 1963, then by descent until 1990
Private collection, NY, 1990 to present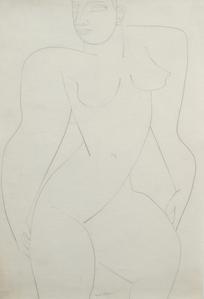 Louise Nevelson
FEMALE NUDE, c. 1932
Graphite on paper
16 1/2 x 11 3/8 inches
Signed: Nevelson (l.c.)
Provenance: Estate of the artist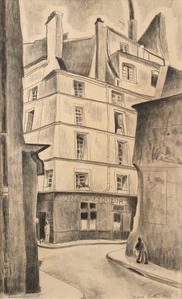 Andrée Ruellan
VIEUX PARIS (also VINS ET LIQUEURS), 1927
Carbon pencil, laid down
17 1/2 x 11 inches
Signed: Andrée Ruellan 1927. (pencil l.r.)
Marked: "Vieux Paris" (pencil l.l. on mount twice) 35- (l.r. on mount)
Provenance: Artist to private collection.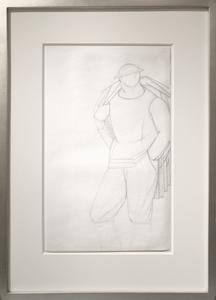 John Storrs
SOLDIER, c. 1918
Graphite
14 3/4 x 11 1/8 inches
Provenance:
Estate of Monique Storrs Booz
Robert Schoelkopf Gallery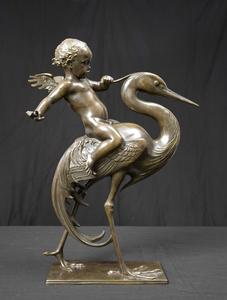 Carl Paul Jennewein
CUPID AND CRANE, Modeled 1923
Bronze
21 3/4 x 15 1/2 x 7 inches
Signed: C.P. Jennewein / © / 1931 (top front of self base)
Marked: PRIESSMANN BAUER & Co MUNCHEN (edge of self base)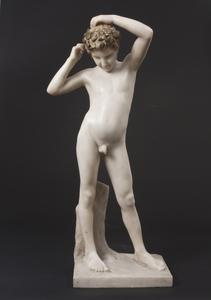 Atillio Piccirilli
YOUNG FAUN , originally modeled 1898; this version 1922
Marble with polychrome and gilding
28 1/2 x 8 3/8 x 11 inches
Signed: A. Piccirilli (rear left of self base)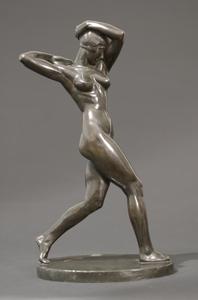 Cecil Howard
THE DANCE, 1922
Bronze
13 5/8 x 7 7/8 x 4 1/2 inches
Two casts only in this size
Signed: HOWARD (top right of self base) II (top left of self base)
Marked: C. Valsuani Cire Perdue [foundry seal] (top rear center of self base)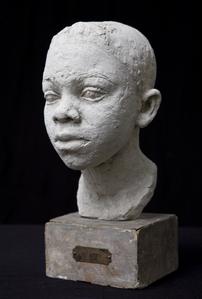 William Artis
HEAD OF A BOY, c. 1930-35
Terracotta on original wood base
11 1/4 x 8 1/4 x 6 1/2 inches
3 3/8 x 6 1/4 x 6 1/4 inch original wood base
Signed: W. Artis (metal plaque on base)
Provenance: Melvin Holmes Collection, San Francisco, CA. until 2015, then by descent until 2019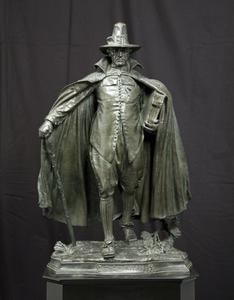 Augustus Saint-Gaudens
THE PURITAN, 1883-86
Bronze
30 1/2 x 19 1/2 x 12 3/4 inches
Signed: AVGVSTVS SAINT GAVDENS (rear of self base)
Marked: THE PURITAN (front of self base) Copyright by / Avgvstvs Saint Gavdens / MDCCCXCIX rear of self base)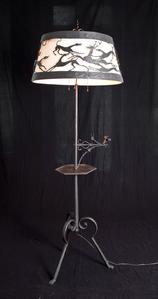 William Hunt Diederich
HUNTING SCENE FLOOR LAMP, c. 1925
Iron, steel, paper, electrical wire
69 1/4 inches

Provenance:
Artist to Charles Bardosy, NY
then by descent
Phillip Shelton Sears
STEPPING STONES, 1923
Bronze
14 1/8 x 9 1/2 x 6 3/4 inches
Signed: P.S. Sears Sc. 1923 (top of self base)
Marked: Gorham Co Founders / QFVS / #10 (rear edge of self base) 3225 (scratched into rear of self base)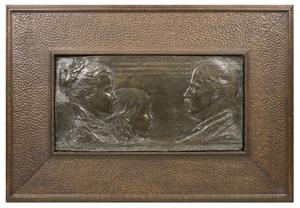 Augustus Saint-Gaudens
RICHARD WATSON GILDER, HELENA DE KAY GILDER, and RODMAN DE KAY GILDER, 1879
Bronze
8 1/2 x 16 3/4 inches
18 1/2 x 26 5/8 inches (frame)
Signed: Augustus Saint•Gaudens / Sculptor (u.c.)
Marked: RICHARD•WATSON•GILDER•HIS•WIFE•HELENA / DEKAY•AND•RODMAN•DEKAY•GILDER / PARIS•M•D•C•C•C•LXXIX•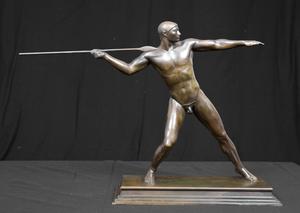 Paul Manship
SPEAR THROWER, 1921
Bronze
20 x 28 3/4 x 7 5/8 inches
Edition of 12
Signed: Paul Manship © 1921 (top of self base)
Marked: No 11 (rear top of self base) Roman Bronze Works N-Y (rear edge of self base)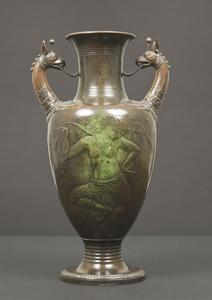 Paul Manship
ORIENTAL DANCER VASE , 1913
Bronze
14 3/4 X 8 1/2 X 6 1/4 inches
Edition of 8
Signed: PAUL MANSHIP / © (front side l.r.)
Marked: ROMAN BRONZE WORKS (rear edge of self base)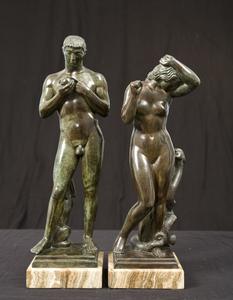 Paul Manship
ADAM and EVE, 1924
Bronze on original marble base
EVE: 16 x 6 3/8 x 5 1/4 inches
ADAM: 17 3/4 x 6 x 4 5/8 inches
Signed: EVE: P. Manship/© [rear top, self base]
Alexis.Rudier/Fondeur Paris [rear, self base]
ADAM: P. Manship/© [rear top, self base]
Alexis.Rudier/Fondeur Paris [rear, self base]
Augustus Saint-Gaudens
HEAD OF VICTORY
Bronze
11 1/2 x 7 3/8 x 6 3/8 inches
Signed: ASG [cipher] (side of self plinth)
Inscribed: NIKH-EIPHNH ["Victory-Peace"] (front of self plinth); To / J.E. Fraser / ASG [cipher] (side of self plinth); Cast by Griffoul. Newark, N.J. (rear of self socle)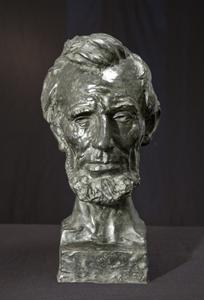 Gutzon Borglum
ABRAHAM LINCOLN, modeled c. 1907
Bronze
19 x 9 1/2 x 11 inches
Signed: G. Borglum SC (side of self base)
Marked: Bedi-Rassy N.Y.C. (side of self base)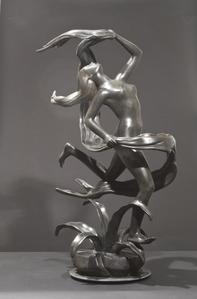 Paul Manship
MAENAD, 1953
Bronze
34 x 21 x 15 inches
Edition of 2 or 3
Signed: Paul / Manship / Sculp 1953 / ©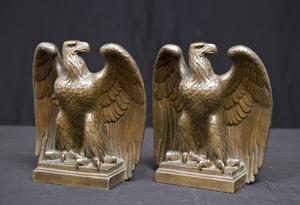 Henry Hering
AMERICAN EAGLE BOOKENDS, 1915
Bronze
8 5/8 x 7 1/2 x 2 1/2 inches (each)
Signed: 1915 L [sideways] / copyright by / Henry Herring (side of self base, each)
Marked: Roman Bronze Works N-Y- (rear) Roman Bronze Works. N.Y. (rear, very faint)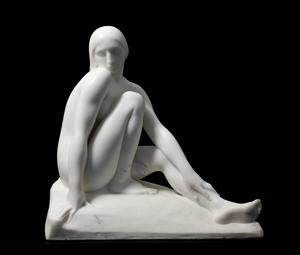 Atillio Piccirilli
SEATED NUDE (also YOUNG VIRGIN), 1920
Marble
27 x 26 x 14 1/2 inches
Signed: Attilio Piccirilli / Fecit NY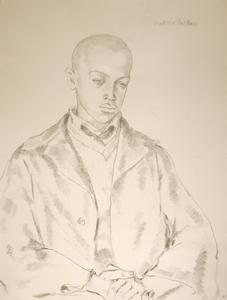 Andrée Ruellan
JULIUS-CHARLESTON, SOUTH CAROLINA, 1936
Graphite
11 7/8 x 9 1/8 inches
Signed: Andrée Ruellan (top right)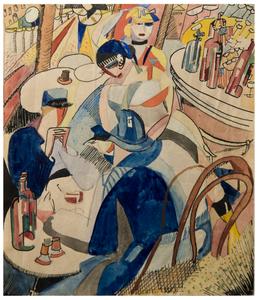 Cecil Howard
SCÉNE DE CAFÉ A MONTPARNASSE, 1915-17
Graphite, ink, watercolor, and gouache
8 1/2 x 7 1/4 inches
Provenance: Estate of the artist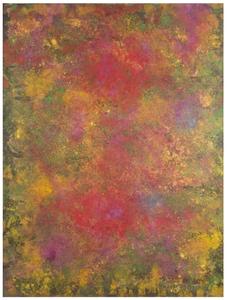 Beauford Delaney
UNTITLED, 1958
Oil on paper
26 x 19 7/8 inches
Signed: Beauford Delaney 58 (l.r.)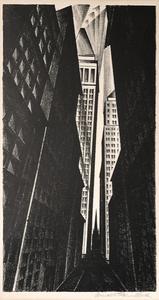 Arnold Rönnebeck
WALL STREET, 1926
Lithograph
12 1/2 x 6 3/4 inches
Signed: Arnold Ronnebeck (pencil l.r.)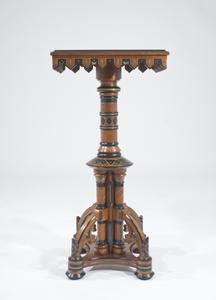 American Pedestal
MODERN GOTHIC PEDESTAL, c. 1875
Walnut, ebonized trim, gilt and incised
38 1/2 x 18 x 11 inches
19 1/4 x 15 inches, top
17 x 10 1/2 inches, setting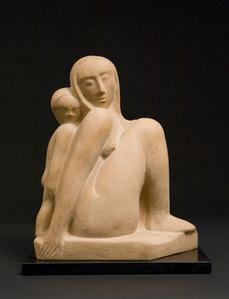 John B. Flannagan
MOTHER AND CHILD, c. 1932-33
Cast stone
14 7/16 x 7 1/2 inches
Provenance:
The artist to Weyhe Gallery, NY
by descent to Mrs. Gertrude Dennis, NY
Private collection, NY, 1991 to present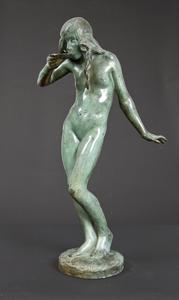 Edward McCartan
GIRL DRINKING FROM SHELL: FOUNTAIN, 1915
Bronze
28 1/2 x 17 x 13 inches
Signed: E. McCARTAN (proper left top of self base)
Marked: ROMAN BRONZE WORKS N-Y- (proper right rear edge of self base)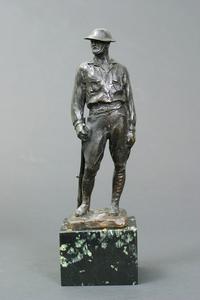 Jo Davidson
DOUGHBOY, 1919
Bronze on marble base
9 1/4 x 3 1/4 x 2 1/2 inches; base 2 inches high
Signed: Jo Davidson / Paris 1919
Marked: Cire Valsuani Perdue [seal]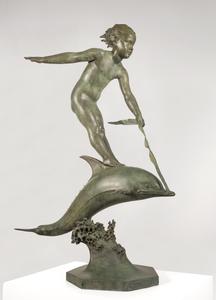 Carl Paul Jennewein
OVER THE WAVES, 1931
Bronze
48 x 31 1/4 x 17 1/4 inches
Signed: © / 1931 / C.P. Jennewein (left, self base)
Marked: [Priessman Bauer & Co. Mu]nich / Bavaria (edge of self base)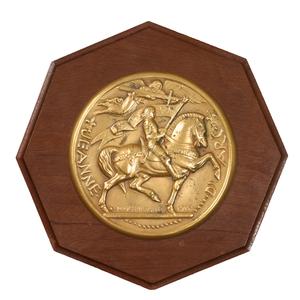 Paul Manship
JEANNE D'ARC PLAQUE, 1915
Gilt bronze on original octagonal wood backing
plaque: 6 1/8 inches in diameter
base: 9 3/4 x 9 1/8 x 3/4 inches
Signed: •Paul•Manship• •1915• (lower center)
Marked: JEANNE D'ARC (outside edge)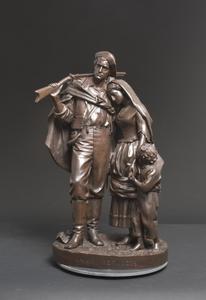 John Rogers
UNION REFUGEES, 1863
Bronze
20 3/4 x 13 1/4 x 10 1/2 inches
Edition: Unique in bronze
Signed: John Rogers / New York (top of self base)
Marked: Union Refugees (front of self base)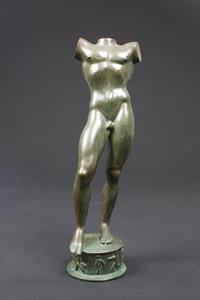 Carl Milles
SUN SINGER (TORSO), 1926
Bronze
12 7/8 x 4 x 3 3/4 inches
Signed: AV C Milles (top rear of self base)
Marked: 1a Skizz Till Solsangapen (top proper left of self base) M Carl / [illeg] (top rear flange of self base) L. Rasmussen [Foundry] Kobenhavn (rear of self base)